As a member of the Nitto Group, we will engage in health promotion activities based on [Nitto Group Health Declaration].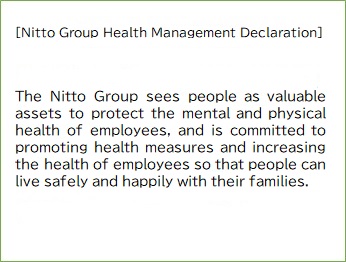 Structure and Outline of Efforts
●Under the policy of [Nitto Group Health Declaration], the management, personnel, general administration, industrial health staff, insurers, and employees' organizations will work together to discuss and work on health promotion activities at regular committees.
● The outline of the efforts is [Occupational Health and Safety], [Mental Health], [Harasment], [Work Life Balance], etc.